Social media marketing requires a more focused and vigilant approach to tap its fullest potential for your brand. In this post, we will discuss nine tactics that might be missing in your current social media marketing strategy. Check them out to find out how you can make the most of them:
Suitable Landing Pages
Make sure your social media audience can easily find what they're looking for when they visit your site. This means building suitable landing pages for your social media posts. A social media landing page can be used for various purposes, like email subscriptions and driving sales by redirecting people to offers and deals on your website.
Consistency in Brand Voice
Branding is all about developing a unique voice for your company, and it should be consistent across all communication channels.
People join social media for stories, relations and entertainment, not to buy goods and services. It is very important for your brand to weave a story to connect with people and communicate your mission.
Your story should distinguish you from other brands. Your brand voice needs to be consistent on all social media channels, so that people recognize and remember the story. Consistency should be maintained in logos, colors, and brand messages.
Segmented Content on Social Media Platforms
While it is essential that you have a consistent brand voice, posting the same content on all social media channels is not a good idea. Why? Because every social media platform has a different aura and diverse audiences. Let's take a look at how to segment content on each of the major social media platforms.
Facebook
Facebook is home to people of all ages and genders, and is a favorite among millennials. It provides a perfect opportunity for viral marketing because people spend a lot of time on the platform. It has the potential to drive a lot of traffic. Videos and live videos are the most popular content on this channel. Blog posts and curated content from third party sites also perform well here.
Twitter
Twitter is a great place for trending topics and general awareness. According to a survey  40% of people use Twitter for discovering breaking news. 39% use it to keep updated with general news.
I encourage you to curate content and retweet it on this platform. When you do so, focus on hot topics and hashtags. It is also a great place for your brand to share blog posts and curated content with images, videos, and Gifs included.
LinkedIn
LinkedIn is a network for professionals, and here you can post articles with industry insights, valuable market data, and company news. Professionals use this platform to seek jobs and career-related information. Here, you can post whitepapers, case studies, interviews, and all kinds of professional content.
Instagram
Instagram is a great platform for brands with a visual aptitude. Creative illustrations, high-quality images, behind-the-scene shots, funny quotes, hashtags, influencer content, contests, and giveaways are things that do well here.
Pinterest
Pinterest is a channel that inspires brands to draw people's attention through imagery and photography. You can leverage this platform to post inspiring and high-quality images and gifs based on your products.
Facebook Targeting
Facebook admin pages provide targeting software that lets you narrow down your audience by behavior, age, gender, demographics, interests, and other detailed Facebook categories. You can use it to target your campaign at the right audience.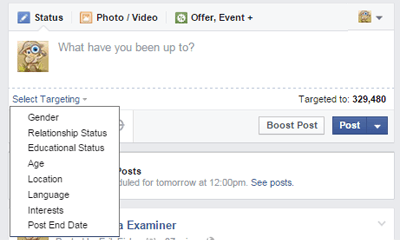 YouTube Integration
Look at the facts below to see what you might be missing if you haven't integrated YouTube into your social media marketing yet.
YouTube has more than 1 billion users, with 1 billion hours of video watched everyday.
It is localized in 88 countries and compatible in 76 different languages, covering 95% of the internet population.
50% of YouTube views come from mobile users.
YouTube integration can work wonders for your brand. Just create a channel and make sure you link it to all of your blogs and other social media profiles. Add relevant videos regularly to make your brand more identifiable, valuable, and engaging to users.
Retargeting
Although you put a lot of effort into identifying and targeting the right audience, only a few percentage of them convert into actual customers. So you need to start focusing on retargeting people depending on the level of interest they've displayed towards your brand.
Look for people who have visited your site in the past or who clicked on some of your previous ads. In addition to this, look for people who have abandoned their shopping carts. And then you can retarget them with ads on social media that might compel them to revisit your site.
For example, Expedia uses ads for "last minute deals" on Facebook to retarget people who may have visited the site before in search of deals or last minute tickets.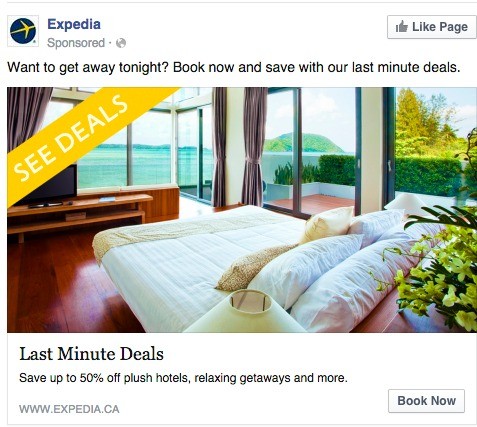 Video Marketing
Content marketing helps brands filter potential consumers through the conversion funnel towards eventual conversion. However, when developing their content strategy, businesses sometimes ignore video content.
This can negatively affect your marketing efforts because video marketing brings more engagement for brands and is a must-have component of content marketing. In fact, a recent study predicted that digital videos will drive 82% of web traffic by 2020.
Social media is a great landscape for video content. You can create the occasional video content and share it on social media to engage your audience. It will also be able to help you drive site traffic.
Pull Marketing
According to a report, 615 million devices use ad blocking, which shows how consumer sentiment is repelled by commercial advertising. Instead of using push marketing, which involves reaching out to consumers to bring them to your brand site, businesses should focus on pull marketing on social media.
This means your social marketing strategy should compel audiences to come looking for your product. You can achieve this by creating valuable content and sharing it with your audiences to instill trust and create demand for your products.
Discover your customer's needs, interests, and keep up with the trends in the industry to connect with them. Portray your products as delivering the exact value that they are looking for.
In Conclusion,
Using a mix of the above tactics, you can build a solid social media marketing strategy that is sure to succeed. With continuous change in audience demographics and interests, it is essential to keep yourself updated on the latest trends.